Episode 45 – "On Your Local Craigslist"
Posted On January 26, 2015
Welcome to the Frozen Nerdz Podcast Episode 45 called On Your Local Craigslist!
We are a your Blizzard Entertainment and Steam Free to Play discussion podcast. Each week we discuss anything that falls in between or outside those two glaciers. From talking about the games you love, the worlds you live in, AND maybe even a few you haven't even heard of yet. Join Kilroy and Epicinsanity each week as we sit down and discuss the topics no one else is talking about as we bring you new points of view in a not so standard podcast format.
The show was recorded on Sunday, January 25th, 2015. And was released on Tuesday, January 27th, 2015.
On Today's episode we talk shortly about our weeks inside video games before we drop a basic campfire and start talking about World of Warcraft. This week we talk about some important News topics before we dive right into our Weekly discussion topics. This week we talk about World Bosses, LFR gating, UI changes, and then we discuss the 10 Year Anniversary Statue. Then we head over to the Starcade to talk about this weeks Blizzard Arcade free to play game called Doomed Earth End of Days and discuss the Team Liquid Map contest announcement! Then we pull up a chair and talk about Hearthstone's new video series Trumph Teachings, and speculate about when Hearthstone will go Mobile! Then we sit back and stay awhile and look at another amazing Diablo 3 community creation! Then we wrap up the show by jumping into the Nexus and talking about Heroes of the Storm. We tackle the topic of the Founders Pack and more. If you have any questions, comments or concerns for the show, feel free to email the show at IceBox@FrozeNerdz.com. Then we wrap up the show thanking those people who supported the show this week on Twitter and then we say our weekly goodbyes. So sit back, relax and enjoy Episode 45 of the Frozen Nerdz Podcast.
World of Warcraft
Blizzard's 10 Year Anniversary Statue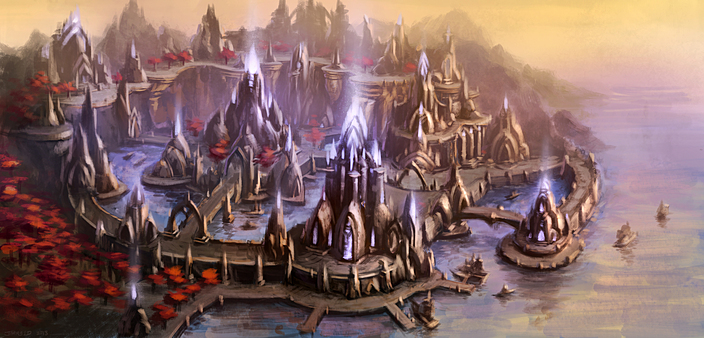 Patch 6.1 Patch Notes are here!
Discussion Topics:
#1:  New raid schedule presents more gating for LFR content is this schedule too long to keep people interested in content?
#2:  World boss tuning in WoD have they shown us anything we haven't seen before? Should world bosses just drop LFR since they require LFR Effort?
#3: Should/could blizzard roll addons into the game as part of the UI itself if most players are already using them? i.e. (1 bag, coordinates, NPC alert tool)
#4: The 10th anniversary physical gift should it be available for other players to purchase?
Starcraft
Doomed Earth End of Days v 2.1
Game type: Strategy
Who made it: IsaacSC
Game Info: http://www.curse.com/maps/sc2/doomed-earth-end-days
As a player, you take command of one of the eleven nations still standing after an world wide economic meltdown. Your goal is to take control of 70% of earths population, meaning taking control of cities. At your disposal is conventional military forces such as tanks, helicopters, and infantry. However, other weapons include zombies, viruses, nuclear weapons, alien invasions, space cannons, and demonic incursions from hell. All of these can be used either to take control of earth or watch the world burn around you.
Rating:
Stupid Funability 1-5:
Epic – 3
Kilroy – 4
Ease Of Play 1-5:
Epic – 3
Kilroy – 4
Controls 1-5:
Epic- 3
Kilroy – 4
Average Rating: 3.5
 Diablo
 Hearthstone
Heroes of the Storm
 Brawl with the Blues coming January 28th, 11:00 A.M. PDT!
Heroes of the Storm Founder Pack is here!

Where You Can Find Us:
Twitter: @FrozeNerdz
E-mail: IceBox@FrozeNerdz.com
Website: www.FrozeNerdz.com
Partner Network: CatalystGamingMedia.com
Forums: CatalystGamingMedia.com/forums
Personal Twitter: @KilroyKT, @Epic_Insanity